Notations in Space
19 February to 27 March
View our exhibition videos here: part 1, part 2 and part 3.
To compose a finished, well-constructed poem, the mind is obliged to make projects that prefigure it. But for a simple poetic image, there is no project; a flicker of the soul is all that is needed.
– Gaston Bachelard, The Poetics of Space [1]
This group exhibition draws on the idea of the poetic image, and how (oft-overlooked or transient) spaces can suddenly penetrate us with considerable emotions without warning nor reason. The exhibited artworks thus function as both explicatory notes on various types of spaces, as well as physical markers – notes and nodes embedded in the space of the gallery.
Richard Deacon, Marina Bay #1, 2012, UV print on shaped STPI handmade paper, collaged on screen printed Saunders paper, 102.5 x 127 cm.
Greeting the visitors are two works by Richard Deacon (United Kingdom) belonging to his Dog Days series. Cutting across the photo prints are shapes layered with an "interference pattern" design, which were inspired by his chance encounter with a hazard warning tape when commuting from Blackfriars station, London. The photos themselves are of spaces that Deacon encountered while on residency with STPI. Juxtaposed together, the interference pattern disrupts our normative ways of conceiving scenes in time.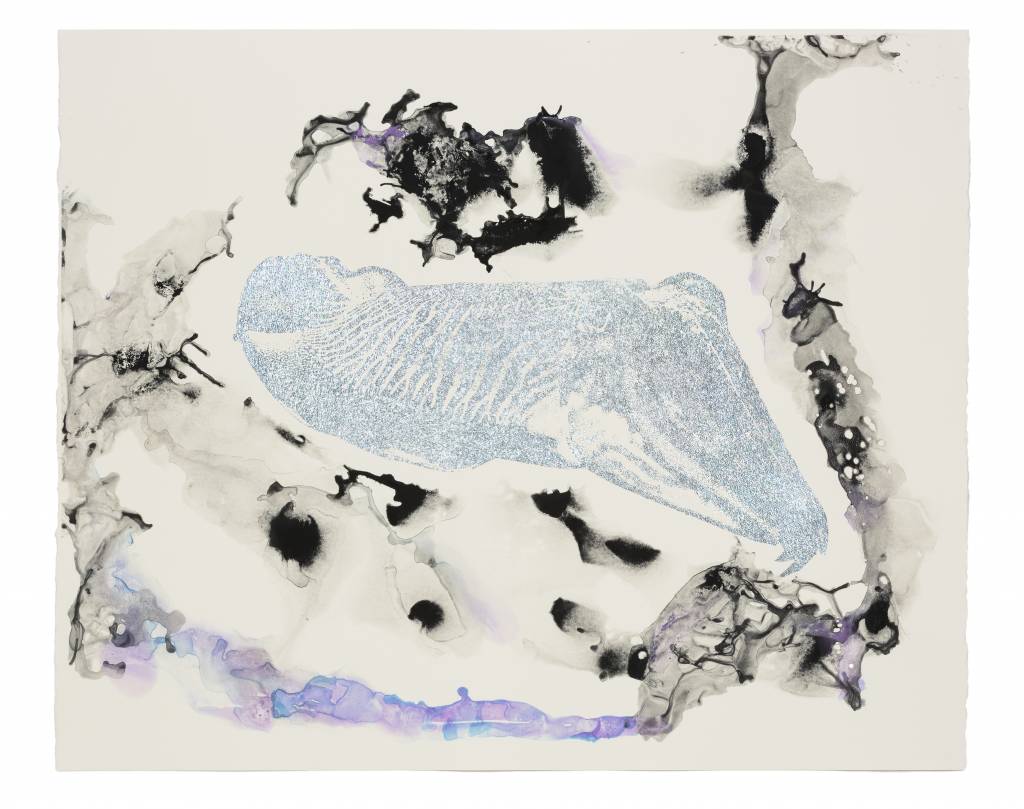 Rirkrit Tiravanija, Untitled 2017, (bodhisattva reflections in the silver seas), 2016, Water-based monotype, metal foil on Saunders paper, 114 x140 cm.
Rirkrit Tiravanija's (b. Argentina, Thai) works play on the idea of time travelling and time measurement to question our conventional methodologies in ascribing a logic to the experience of this dimension. Through this, the artist highlights the more personal, emotive and transcendental qualities of his subject of study. As such, the audience may contemplate on their own encounters of experiencing time in a non-linear fashion, as if stepping through a portal.
Handiwirman Saputra, Ujung Sangkut Sisi Sentuh I #04 / Suspended Forms #04, 2012, Paper pulp drawing with translucent abaca paper, 128 cm (dia).
Directing our focus to forgotten landscapes, Handiwirman Saputra's (Indonesia) Ujung Sangkut Sisi Sentuh / Suspended Forms is an amalgamation of forms borrowed from various discarded objects from our everyday lives (fabric scraps, random plastic or metal parts, styrofoam bits). Put together, these ghostly, reimagined landscapes are a reminder of the uncanny beauty and lyricism in the overlooked and forgotten.
Alfredo & Isabel Aquilizan, HOME: Project Another Country II (detail), 2017, Cardboard pulp, stainless steel metal rods with wooden base, 183 (h) x 70 (dia) cm.
Ruminating on their long-standing concern of (away from) home and belonging, Alfredo & Isabel Aquilizan's (Philippines/Australia) HOME: Project Another Country II—comprised of cardboard pulp houses with individuals' meanings of home scribed onto them—ruminates on the many connotations that one would associate with their own dwelling spaces, and what it means to feel at home.
Other highlights include works by Genevieve Chua (Singapore), Do Ho Suh (South Korea/UK/USA), Goh Beng Kwan (Singapore), Hong Zhu An (Singapore), Teppei Kaneuji (Japan), Melati Suryodarmo (Indonesia) and Yim Ja-Hyuk (South Korea), all of which provides different landscapes and textures of space, be it physical, psychological or otherwise. As a whole, the exhibition implores us to revel in the uncanny lyricism of a poetic scene the next time we encounter one, or perhaps to take a second more to stop and gaze with newly attuned eyes, so as to make tender these spaces for ourselves.
[1] Gaston Bachelard, "Introduction", The Poetics of Space (1994 edition). (Boston, Massachusetts: Beacon Press, 1994), xxii. Bold formatting not originally the book's own.
View Available Works (Do Ho Suh).
View Available Works (Handiwirman Saputra). 
View Available Works (Yim Ja-Hyuk). 
View Available Works (Melati Suryodarmo).
View Available Works (Alfredo and Isabel Aquilizan).
View Available Works (Genevieve Chua).
View Available Works (Teppei Kaneuji).
View Available Works (Goh Beng Kwan).
View Available Works (Richard Deacon).
View Available Works (Rirkrit Tiravanija).