Artist Profiles
>
>
Carsten Höller, Tobias Rehberger, Anri Sala, and Rirkrit Tiravanija
"You have to systematically create confusion, it sets creativity free. Everything that is contradictory creates life." – Salvador Dalí
Following the footsteps of the Surrealist masters, Carsten Höller, Tobias Rehberger, Anri Sala, and Rirkrit Tiravanija used the game of Cadavre Exquis (Exquisite Corpse) to create fantastic composite works with STPI. This bold process required the artists to completely surrender their individual artistic control; where an artist would start a work and the next artist—given only a sliver of what had already been created as guidance—will pick up where the previous one left off. Free from calculated reasoning, each artwork is uniquely whimsical and unabashedly nonconformist, a melting pot of four individual parts guided into cohesion by the invisible hand of haphazard chance.
This body of works explores the little-understood realm of unconscious influence. Exquisite Corpse is a testament to how each artist relates to one other on a subconscious level, despite the absence of dialogue, negotiation, and the considerable challenge of merging four distinct artistic styles. One can see this through the unexpected colour harmony of Rehberger's Al Capone portrait, paired with Höller's colour Venn diagram in (dreams that money cannot buy) (2016); as well as the surprising technical harmony of flocking, utilised by both Tiravanija and Höller in Transgender Question Seafood Vaporiser (2016). In the latter work, Höller's portion, inspired by an Italian restaurant menu, formed the unexpected finishing piece to Rehberger's artistic creation of a dwarf which ended at its ankles.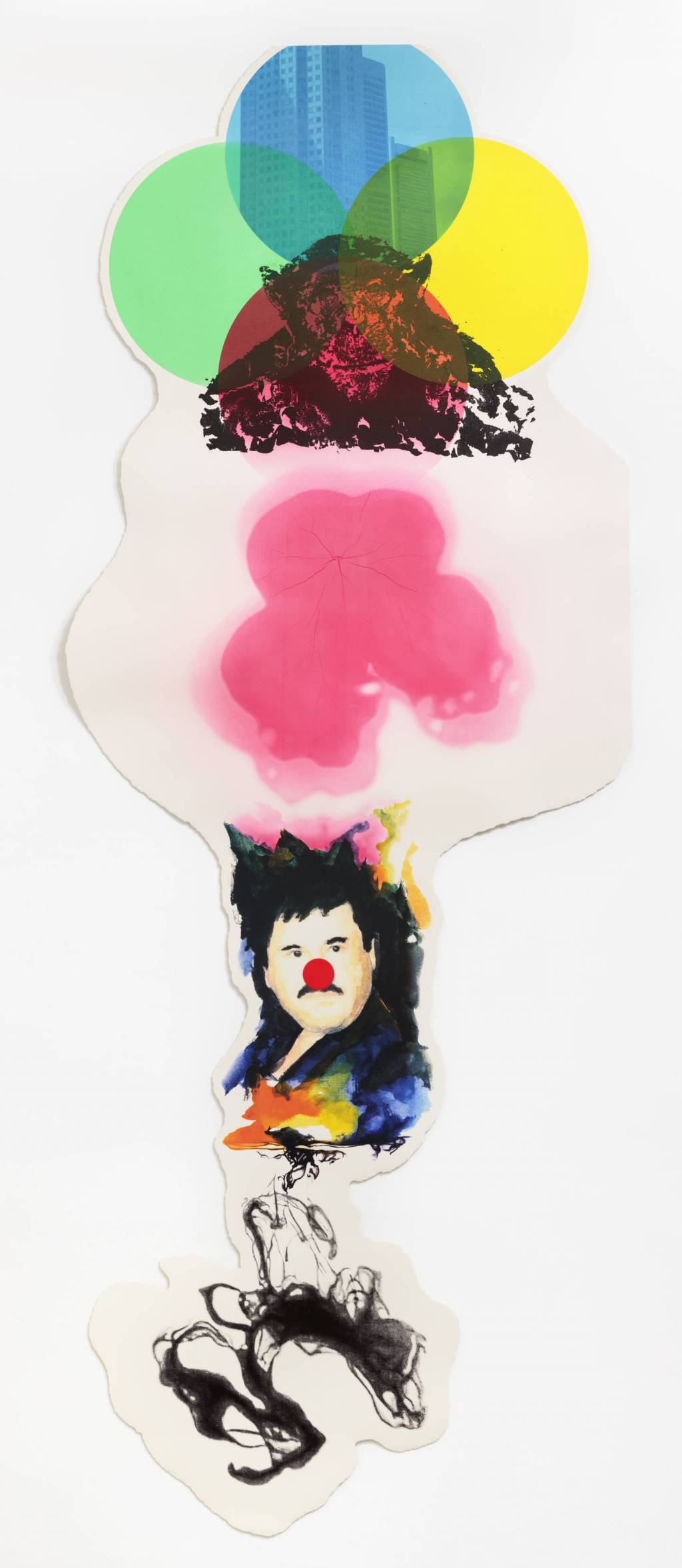 Unique in its execution, this collaboration challenged these four artists to convey their art through print and papermaking, when they are known for their experiential art: how art is not an object, but an experience. Surrealistic automatism was the means to this end, and on a larger scale, these works mirror the organic process of the creation of a society; how each member of a society is unknowingly influenced by one another. These works were showcased in the group exhibition: Carsten Höller, Tobias Rehberger, Anri Sala & Rirkrit Tiravanija: Exquisite Trust (Blindly Collective Collaborations), STPI Gallery, Singapore (2017); and were subsequently selected by Yokohama Triennale (2017) and its Co-Director Akiko Miki, to be presented at the Yokohama Museum of Art alongside Surrealist artworks from the museum's permanent collection.